WHOLE BODY, HEAD OUT & DOUBLE CHAMBER
Plethysmography is a standard method for studying pulmonary function in conscious, spontaneously breathing laboratory subjects. The barometric plethysmography technique measures flow and pressure changes that occur while the subject is breathing, before and after exposure to a drug or other challenges. It is easily adapted to various subject sizes and species, and is often used for longitudinal studies where the subjects are studied for multiple hours on successive experiment days.
Techniques and measurements
Restrained versus Freely Moving
WHOLE BODY
FOR FREELY MOVING CONSCIOUS SUBJECTS
In unrestrained whole body plethysmography (WBP), the spontaneously breathing subject moves freely within a small, closed plethysmograph chamber. Changes in pressure within the chamber along with the flow in and out of the box are measured using pressure transducers and pneumotachographs. Analyzers within the software (iox by emka TECHNOLOGIES) provide endpoints such as breathing frequency (f) and duration, estimates of tidal volume (TV), minute ventilation (MV) as well as a dimensionless quantity known as enhanced pause (Penh). Additional temperature and humidity sensors may be added to compensate thermodynamic effects in the chamber.
HEAD-OUT
In head-out plethysmography (HOP), the subject is conscious, spontaneously breathing, and situated in a conical restraint. The conical restrainers follows the animal's head shape and ensures that air, displaced by the chest wall motion, is isolated from the total air moving in and out of the lungs, thus permitting true flow measurements. This approach provides a true tidal volume (TV) along with measurements of breathing frequency (f) and minute ventilation (MV).
DOUBLE CHAMBER
JoVE – Assessment of Respiratory Function in Conscious Mice by Double-Chamber Plethysmography
In double chamber plethysmography (DCP), the head-out set-up is complemented with a head chamber, permitting delivery and containment of aerosolized compounds. A second pneumotachograph is added to the head chamber to measure both nasal flow and thoracic flow. Time shift measurement between thoracic and nasal flow allows additional outcomes to be calculated, including specific airway resistance (sRaw) and specific airway conductance (sGaw).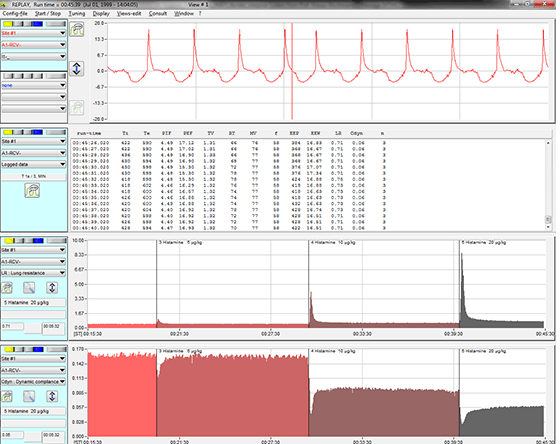 DATA ACQUISITION & REAL-TIME ANALYSIS
iox2 provides advanced data acquisition and real time analysis to manage your experiments. Powerful algorithms are integrated in this platform, allowing for customized protocols and analysis on a breath by breath basis. iox2 is a GLP compliant software that acquires, analyzes, displays, controls and stores data generated during an experiment.
FEATURES & ANALYZERS
Real-time analysis and ambulatory monitoring.
Flexible tuning analyzers for breath acceptance or rejection (e.g.: rejection ranges can be set for any or all parameters: TV, f, MV, PIF, PEF, etc.).
Automated alarms and email alerts for relevant physiologic triggers.
Easily configurable trends, data tables, and signal graphs to display detailed information for single or multiple subjects.
Replay or review data files.
High Definition video signals synchronized with respiratory waveforms.
Protocols to automate user workflow and act as experimental guidelines.
Apnea and cough detection.
Respiratory flow (RF) analyzer for ventilatory parameters.
Dual-chamber respiratory flow (DCRF) analyzer for specific airway resistance.
Multiple independent physiologic channels can be captured simultaneously for high throughput.
Links to emka TECHNOLOGIES and DSI telemetry.